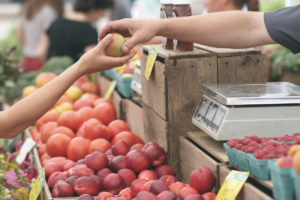 Facebook advertising has proven to be the way to go for some small businesses.  There are others that swear the ads don't work. The only thing that most online users agree is the fact that if you have a small or big business, or if you are in the spotlight, politics is the last thing you want to be promoting.
As a small business owner providing goods or services to many clients, the last thing you want to do is promote one political view over another.  Stick to business.  Remember that we want clients to spend money with us, regardless of their party affiliation.
For more about this and other news, follow the links below.
---
Small Business Saturday: Big, and getting bigger
It's not yet Halloween, but for many small businesses, planning for the holiday season has started in full force. If you own a small business, it's time to start getting ready for one of the most important days of the year.
In all my years working with entrepreneurs and writing about entrepreneurship, Small Business Saturday — falling this year on Nov. 25 — is the most transformative campaign for small businesses I have ever seen.
Since its inception in 2010, this special day — the Saturday after Thanksgiving— has become the biggest sales day of the year for many small companies. For the big day last year, an estimated 112 million Americans shopped at small businesses and independent restaurants, spending about $15.4 billion, according to American Express. That's about one-third of the American public buying at small businesses and a whole lot of cash infused into local economies.
---
What Not to Do on Your Facebook Small-Business Page
More entrepreneurs are tapping into the world's largest social media network: There are more than 70 million businesses now on Facebook, up from about 18 million in 2013, according to chief operating officer Sheryl Sandberg during a recent investor call.
Facebook gives businesses a platform to showcase new products and services, promote specials and provide customer service. But with these benefits comes the potential for mistakes that can damage your brand.
Here are five common small-business mistakes to avoid on your Facebook business page.
1. Don't post too often
Most industries should aim to post no more than once or twice a day to avoid overcrowding followers' news feeds, says Cheryl Friedenberg, president of High Key Impact, LLC, a small-business marketing consulting firm.
There are exceptions, though. For example, it's appropriate for restaurants to post frequently about food specials, happy hours or live music events, or for medical businesses to post about recent health studies, Friedenberg says.
"I don't think people mind seeing more of those types of posts throughout the day," she says.
---
Survey: Small businesses' appetite for financing weakens
Small businesses' appetite for financing has weakened in the second half of the year, along with their revenue outlook.
That's the finding of a survey of small companies released Wednesday by researchers at Pepperdine University's Graziadio School of Business and Management and Dun & Bradstreet Corp. An index compiled from the survey that measures companies' demand for capital has fallen more than 10 percent in the third quarter, registering at 36.2 versus 40.4 in the second quarter.
The survey, which questioned 1,176 businesses, is in line with other recent indicators of slowing activity at small businesses. The payroll provider ADP reported this month that its small business customers cut jobs during September. While that was due in part to Hurricanes Harvey and Irma, companies have generally slowed their hiring.
---