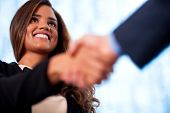 Are you changing careers? Is your job not what you do it would be? Are you in college looking ahead?
There are many college students looking for opportunities before they graduate from college, but  is that too early? On the contrary, networking and finding the right career opportunities before you are out of college is one great move for any college student.  Meeting potential employers or people with jobs in their particular field can only be a positive move.  Getting to know people that can later on be a liaison between you and a great career opportunity, is something every college kid should be looking forward to do.
For more about this and other topics, follow the links below.
---
Corporate career to entrepreneur: How to prep for the leap
After two decades in the workforce, Ohio businesswoman Deborah Wasylko found herself faced with the prospect of having to move to keep her job while dealing with challenges in her family life. Wasylko concluded that she had a choice: continue her corporate career or become an entrepreneur.
"I decided to start a corporate gift company, because that's what I love to do," says Wasylko, the founder and president of Baskets Galore, which creates gift baskets for corporate clients. She had long been enthusiastic about visual design and making people feel cared for, she says, and her new venture touched on both interests. "It was my opportunity to re-engineer my career and follow my passion."
The allure of becoming your own boss seems strong: As of 2014, there were more than 29 million small businesses in the U.S, up 6% from 2010, according to the U.S. Small Business Administration.
But excelling in an office doesn't mean you're bound for entrepreneurial success. Before you take the leap, tackle these tasks.
---
Women in Business Expo slated for Oct. 20
NEW PHILADELPHIA Businesswomen and women-owned businesses are invited to exhibit at the 2017 Women in
Business EXPO: The Pink Party at the Performing Arts Center at Kent State University at Tuscarawas on Oct. 20 from 11 a.m. to 2 p.m.
Take advantage of this opportunity to present your business to a large audience of consumers in Tuscarawas and surrounding counties, and network face-to-face with 75 businesses represented at the event.
The event offers free admission to the public. A nominal fee of $125 secures each business' booth space, which includes a continental breakfast. Exhibitor registration forms can be found online at Kent.edu/tusc/sbdc-events.
---
Event to help Ohio's minority, women and small-business owners
Minority and female business owners, as well as small-business owners, have a new opportunity to get more business with cities and other government agencies throughout the state.
The first Ohio Municipalities Business Conference is slotted for Aug. 2-3 at the Greater Columbus Convention Center. The city of Columbus is the host.
The conference is an evolution of the former Mayor's Small Business Conference & Expo, which was limited to opportunities for business with the city. The new conference expands that statewide "Mayor (Andrew J.) Ginther is committed to diversity and inclusion, particularly supplier diversity. He wants to put his brand and unique approach to the business conference," said Steve Francis, the director of the city Office of Diversity and Inclusion.
---